Hi Carl, tonight I'm going to talk about the inspiring documentary movie "A Most Beautiful Thing," streaming now. It's written and directed by Mary Mazzio, a veteran filmmaker and a former Olympic rower. The recommended viewing age is 16 and above.
It's based on a book of the same name and is the true story of Arshay Cooper, who grew up living in a dangerous, poverty-stricken area on the west side of Chicago in the '90s. A book, by the way, I can strongly recommend; Arshay is grateful for the opportunity that was given to him and is devoting his life to making a difference in other underserved communities across the United States.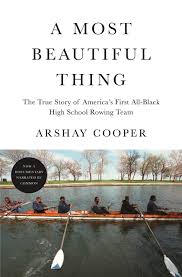 Arshay Cooper, Alvin Ross, Preston Grandberry, Malcolm Hawkins, Ray "Pookie G." Hawkins, and several classmates were enticed by free pizza in their High School lunchroom if they signed up to learn about rowing. Ken Alpart, a white businessman in his early 30s and a former rower at Penn College, had a plan to start a crew team in an inner-city school.
Manley is primarily known as a basketball school; Alpart knows first-hand that crew is different than baseball as it's not natural athletic ability that's important as much as being willing to work hard and have discipline, commitment and focus. He also wanted to change the pale face of crew and alter some notions about black athletes. "There's the stereotype of basketball versus the stereotype of crew," he said. "That black kids can play basketball because they're athletic, but crew is a thinking person's sport and a sport dominated by wealthy prep schools in the 90s, " said Alpart.
He also felt that giving kids an opportunity to row demonstrates crew is a sport people in these communities can excel in because of their ability to think and focus and concentrate and those types of things that have stereotypically been discounted.
More than 100 students eventually signed up for the team, but only eight showed up on February 15 for the first practice. The number grew to 35 before dropping to 23, which included five girls. Alpart hired two part-time coaches, fitness trainer Victor Finley-Brown and University of Chicago graduate student Jessica VandeVusse. They conducted two months of land training, which included work on rowing machines. Alpart also arranged swimming lessons because most of his athletes couldn't swim.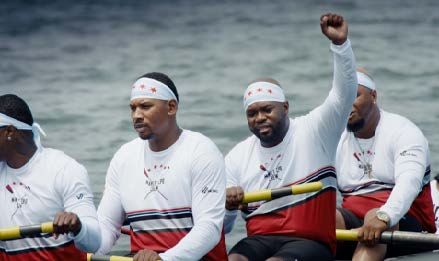 As a result, Cooper's life drastically changed when he was given the opportunity to compete for Manley High School as part of the first all-black High School rowing team in the United States. He was able to concentrate on the sport, be part of a comradery, and avoid the deadly gangs.
Audio Clip: "Some people ask what college are you going to go to? In our neighborhood, they want to know what gang are you going to join?"
"A kid got shot right in front of Manley, killed him dead right on the curb.  Kinda makes you lose hope in the community. How do you break out of that?"
In my interview with Arshay Cooper, he told me that "training in the water became a 'safe-haven' for him, away from the violence and gangs.
Audio Clip: "Brothers encouraging brothers, that needs to spread like wildfire throughout communities."
I'm all in four stars out of four; this is one of the best documentaries I've seen this year, it reminded me of the excellent Steve James film "Hoop Dreams" both films are a "call to action" in helping kids and families find ways to survive poverty, addiction, and violence.
Nominated for a Critics Choice Award and is currently garnering a 100% Rotten Tomatoes rating, A MOST BEAUTIFUL THING, narrated by the Academy Award/Grammy-winning artist, Common; executive produced by NBA Stars Grant Hill and Dwyane Wade, Chaz Ebert and Grammy Award-winning producer 9th Wonder. Brought to you by the film studio 50 Eggs,– it's streaming now on NBC Peacock and Amazon Prime.
Thanks so much for listening in tonight; for more reviews and interviews, please check out my website Sarah's BackstagePass.com; see you next week.
Check out my interview with Mary Mazzio posted to the Alliance of Women Film Journalists: https://awfj.org/blog/2020/11/12/mary-mazzio-on-the-olympics-film-activism-and-a-most-beautiful-thing-sarah-knight-adamson-interviews/
Also my video interview with Arshay Cooper will post soon!
Sarah Knight Adamson© November 8, 2020