Oh yes, those Sanderson Sisters are back casting their spells! The wait is over; after 29 years, "Hocus Pocus 2" has dropped on Disney+. Bette Midler, Sarah Jessica Parker, and Kathy Najimy, the witchy sisters, are summoned back to Salem by way of the Black Flame Candle. Three high school girls are carrying the movie into the next generation with a penchant for witchcraft.
Director Anne Fletcher known for crowd-pleasing comedy films such as "The Proposal" (2009), "The Guilt Trip" (2012), and "Hot Pursuit" (2015), has another winner here. Screenwriter Jen D'Angelo's script is freshly current with the addition of new characters and storylines. The beloved trio from the original film have become cult icons in their own right—seeing them back on-screen together is both exhilarating while nostalgic. Yes, I had chills watching them belt out a parody of Elton John's song "The B…h is Back," which translates to "The Witch is Back" or, in their cases, "The Witches are Back."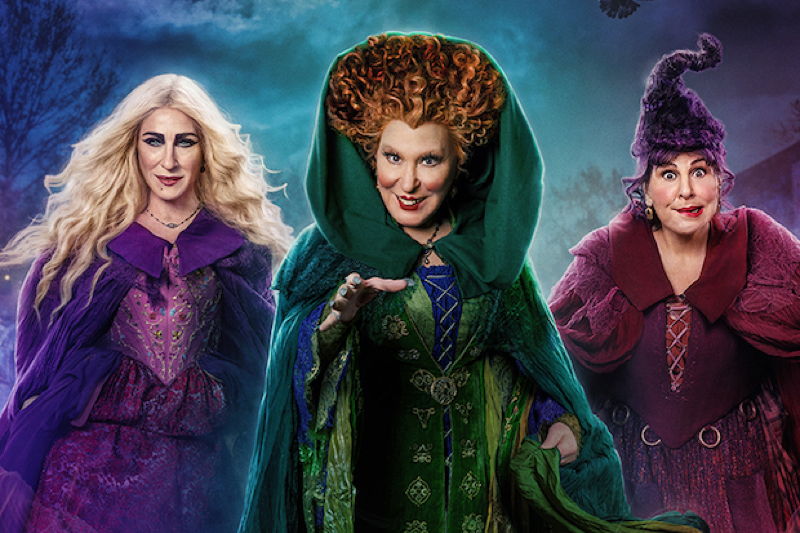 The 1993 movie that takes place in Salem, Massachusetts, where witch trials and hangings really did take place in 1690's–a horrific time in our country for sure. I am the direct descendant of Susannah North Martin, who was actually hung as an accused witch at age 70, of which restitution has been paid to her surviving family members. My heritage hasn't skewed my view of the movie, although it has created a desire to visit Salem. I would suggest watching the first movie as it's lots of fun while setting the groundwork for the sequel. I viewed the film with my 9-year-old grandson, Tyler Adamson, and he loved it. "Upon the ending credits, he said, "I can't wait for the witches to come back; now I'm wondering how they are going to do that?"
The new film opens with a flashback of the sisters as their younger selves. Taylor Henderson, Juju Journey Brener, and Nina Kitchen are Winifred, Sarah, and Mary. "Ted Lasso's" Hannah Waddingham appears as Mother Witch and informed they are cursed to a life tied to the Black Flame Candle. Fast-forward 29 years to modern-day Salem, the Sanderson Sisters' have become well known with a history lesson attached in Gilbert's (Sam Richardson) magic shop. Yes, they are summoned back and appear in a hysterical scene set in a Walgreens of all places.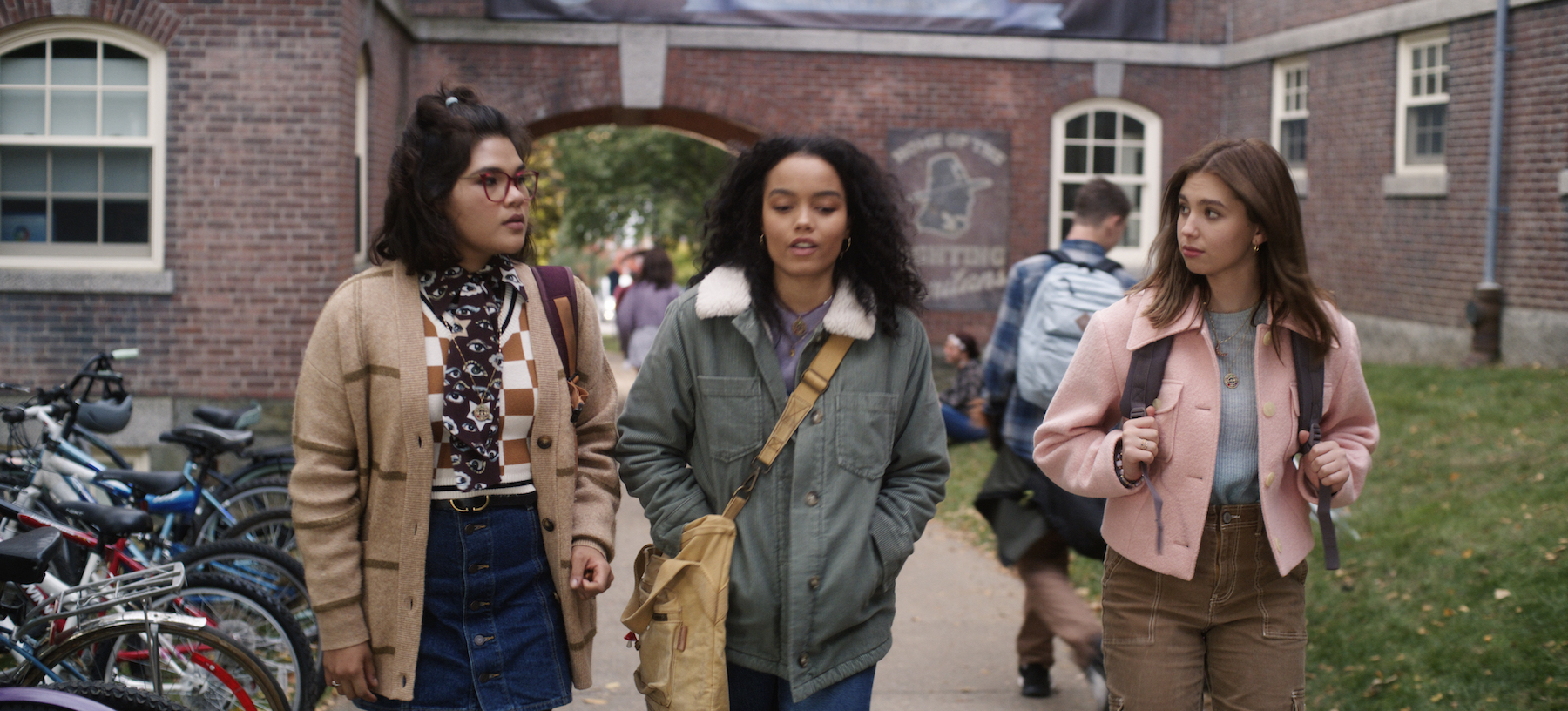 Midler, Parker and Najimy effortlessly slip back into their roles, with Midler barking orders, garnering the most screen time with hilarious one-liners. She's mesmerizing to watch, especially while singing and dancing. Her performance is superior to the others as she has more lines and screen-time; look for a possible Academy Award nomination. Yes, the dim-witted Parker is amusing, as is Najimy's new pair of Roomba's, aka broomstick that hoovers her into the night sky, is a pronounced upgrade to her vacuum cleaner.
Filmmakers have sought to grant equal narrative to our new trio of females, which I'm happy to report has been accomplished. Fletcher's directing decisions paid off as the Halloween theme-based movie will have the younger fans screaming for more Hocus Pocus adventures, and this critic is fine with that. I say bring it on!
Sarah Knight Adamson© October 2, 2022