The well-known actor Nicolas Cage has become a Hollywood icon as he's made his full-on gonzo-style acting technique his signature. I have to admit, at times, I found myself scratching my head while viewing another B-movie starring Cage—here's the inside joke, Cage explains his career decisions by simply saying, "A job is a job; I want to work." "The Unbearable Weight of Massive Talent" is a love letter to Cage's career, offering his insights and his Hollywood fan's reactions. The icing on the cake is viewing Cage playing his younger egotistical self as he judges the older Cage's acting choices. Yes, Cage plays a parody of a parody chatting about his career, disappointments, and gratefulness.
During the beginning of the film, we view Cage dealing with a broken marriage by trying to make amends with his former wife, Olivia (Sharon Horgan), and teenage daughter Addy (Lily Sheen). The money he's made is gone; he's somehow acquired a $600,000 hotel bill without realizing it. He's also desperate for a significant comeback role and is anxiously  waiting to see if he's hired. His agent Richard Fink (Neil Patrick Harris), mentions a new project when the part falls through, saying, "It's about a million dollars." The payout is to attend a birthday party of an eccentric Spanish billionaire, a Cage superfan, Javi Gutierrez (Pedro Pascal) in beautiful Mallorca, Spain.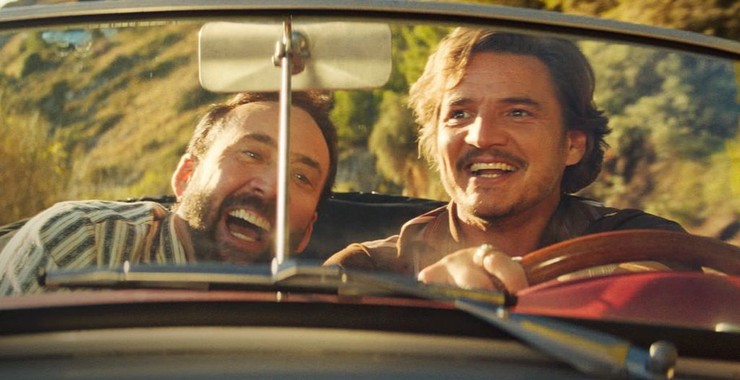 Tom Gormican co-wrote the script with Kevin Etten and also served as the film's director. They, along with Cage, speak to fans, utilizing scenes of former movies via Pedro Pascal's character,  the wealthy admirer and the ultimate Nic Cage fan. The script is genius as it showcases Cage's famous work along with his personal commentary. The addition of the ever-comedic Tiffany Haddish as a CIA agent and the brilliant Ike Barinholtz adds to the back story of Cage's biggest fan Javi (Pascal). We learn that Javi is part of a dangerous arms-dealing family while CIA agents try  to counteract their every move. Unbeknownst to Cage, he's caught in the middle and needs to assist the CIA—the hysterics happen when Cage and audience viewers realize he's playing a part similar to many of his prior films, only this time it is real life.
Watching Cage, bugging offices, opening locked doors, adjusting close-circuit camera's etc., is great comedy—although my favorite part of the film is the bromance between Cage and Pascal; together they are simply magic. Their succinct timing is incredible; their scenes are genuine and from the heart. The wannabe filmmaker Javi is ecstatic when Cage suggests they write a movie together as a cover for Cage to remain in Spain and infiltrate the gang. The collaboration brings on Cage's filmography, with references to Adaptation, The Rock, The Wicker Man, Con Air, Guarding Tess, The Croods 2, Moonstruck, Vampire's Kiss, and the fan-favorite: Face/Off.
Cage and Pascal play off each other as if they can read each other's minds. Their scenes are the making of a classic film that warrants revisiting over and over. I look forward to second and third viewings.
The Bottom-line: Nic Cage has never left us, he's front and center reminding us of his illustrious Academy-Award winning career, playing wacky, good-hearted roles, one of my favorite lines from "Raising Arizona" occurs while Cage is robbing a convenient store, and his character, H. I. says "I'll be taking these Huggies and whatever cash ya got."
Sarah Knight Adamson© April 29, 2022