Daniel Radcliffe is "Weird" Al Yankovic in this highly exaggerated story of his early childhood and rises to fame as a parody singer and accomplished accordion player. The film opened in Toronto to packed crowds, of which I arrived 45 minutes early for my film critic screening and was turned away as there were so many people. I was sent a link and could view the film a few times. In full disclosure, I am a Weird Al fan and have seen him perform live in concert in Denver in 2014. My appreciation for him began in 2003 when his music DVD collection became available. Fast forward to 2022, with a major motion picture film, and of course, I'm interested—and, I might add, very pleased with the film. It's sure to make you laugh, just know that most of the film is fictional, he's decided on an outrageous parody of his life, and I'd expect nothing less.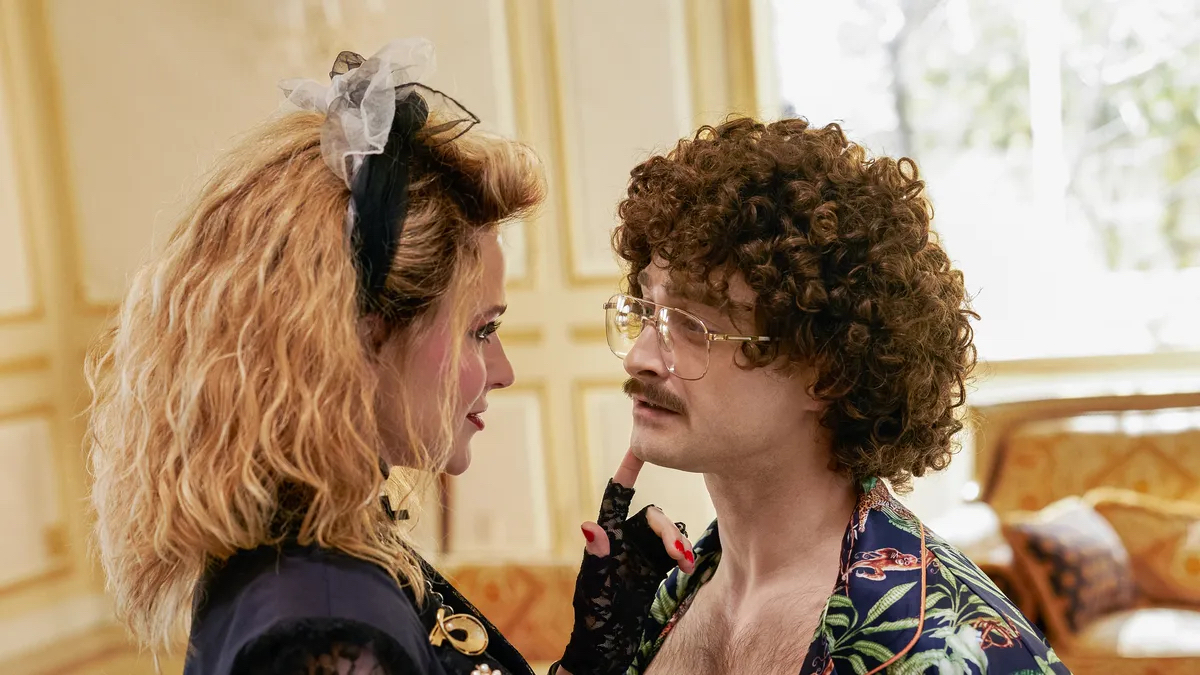 We meet three different actors playing Weird Al, the child, teen, and young adult. Danielle Radcliffe of Harry Potter fame has the bulk of the film as Weird Al, a college student, and adult. I've seen the movie twice and laughed even harder the second time. The absurdity, the creative genius of a script, and Radcliffe's performance make for an entertaining time at the movies.
In comparison to other lampooned biopics, "Walk Hard: Dewey Cox" comes to mind, yet that's not based on a real person. Weird Al is front and center here, including all the crazy antics of rock and rollers from all over the world and their struggles with parents that misunderstood them, or in Al's case, ones that just wanted a normal son. Although the opposite is true in Al's life, his parents were very supportive of him, he doesn't drink alcohol or part take in heavy drug use, and he never dated Madonna. He happily married Suzanne Krajewski, a marketing executive with 20th Century Fox, after they met in 2001. Their daughter, Nina, was born in 2003. Look for the couple in the film seated together during a few performances.
The" Weird Al" biopic parody is the perfect way to tell his story, as I'm also sure he had fun visualizing his life in the bad-boy scenario that many rock stars are known for. Yep, there's a Jim Morrison stage performance nod, complete with his signature leather pants and a pulled zipper that got him arrested on more than one occasion. Look for Even Rachel Wood's performance as Madonna, as she's fantastic in the role, and stay for the ending credits as she has a fun, unexpected scene.
Director: Eric Appel
Writers: Eric Appel, Weird Al Yankovic
Runtime: 1 hour 48 minutes
Streaming on Roku Nov.4, 2022
Sarah Knight Adamson© Nov. 6, 2022